Cleaning & Restoration
Did you know cemeteries are not responsible for taking care of individual headstones and graves?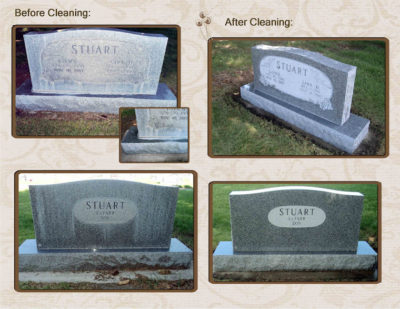 Most cemeteries do an excellent job of maintaining the grounds but it's the family's responsibility to take care of the individual grave. Over time, gravestones and monuments become stained by water, moss and lichen growth, bird droppings etc. Cleaning with soap, water or standard household cleaners will not remove these stains and can often permanently harm the monument.
Classic Memorials has developed Forever Clean™, a 7-step proven and safe approach to effectively maintaining headstones and monuments, and ensuring you achieve your gravestone maintenance needs. All of our services are 100% guaranteed.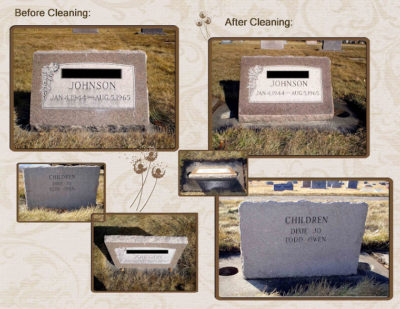 Headstone & Monument Cleaning
Cleaning of headstones – we clean all types of headstones, including granite, marble, slate and sandstone using soft bristle brushes and a PH neutral biowash solution. We take extra care not to damage the gravestone in any way.
Cleaning of grave markers – we clean and polish bronze grave markers.
Cleaning of monuments – we clean monuments safely and effectively
'Before' and 'After' digital pictures sent via email.
Gravesite Care
Removal of debris, litter, leaves and plant matter
Cleaning of headstone/grave marker
Cleaning flower vases
'Before' and 'After' digital pictures sent via email.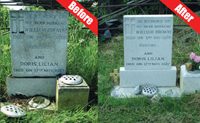 Plot Decoration/Message Delivery
Delivery and placement of flower arrangements
Transportation to/from cemetery
Laying of stones/rocks on gravestone
Placement of decorations on holidays, e.g., flags, etc.